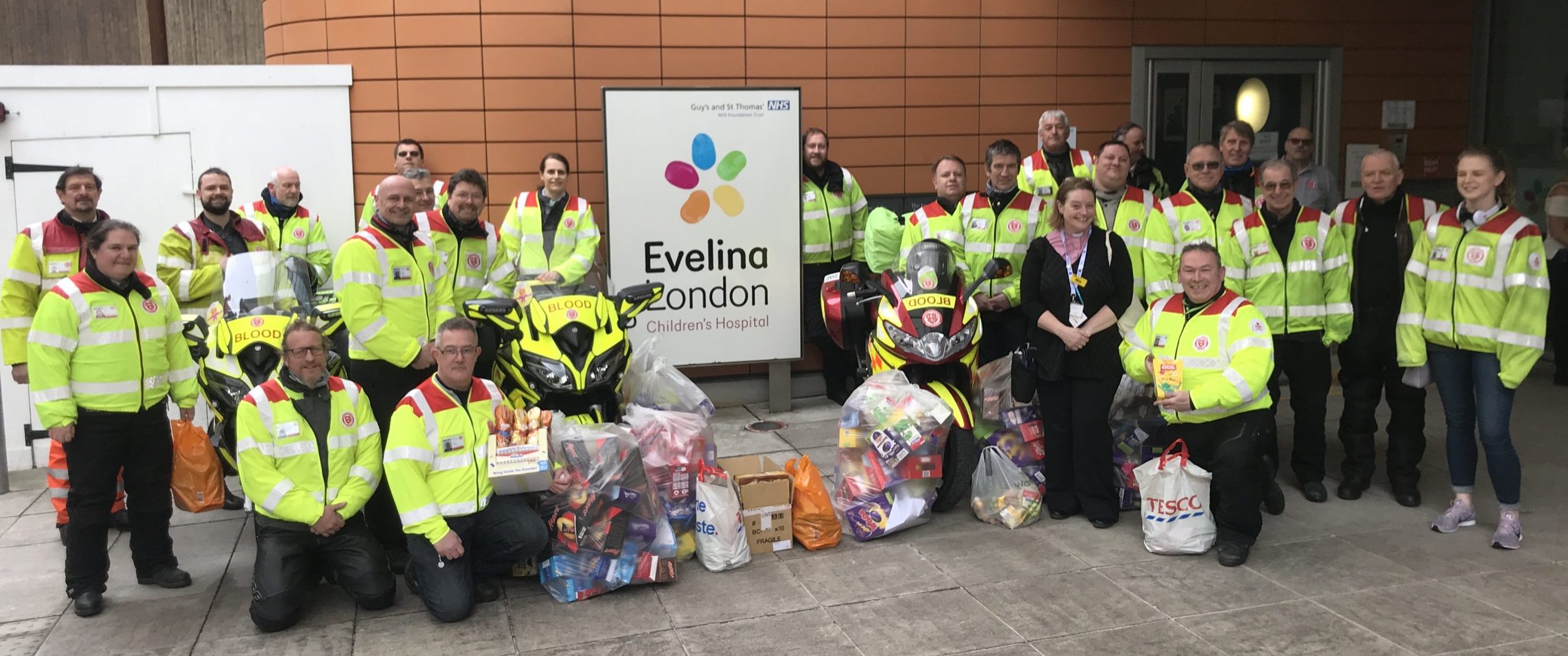 Join us and become our greatest asset!
The bikes and cars are great, but without the riders, drivers and controllers, it all means nothing. People are at the heart of what we do and who we help. We are always looking for brilliant people to come and do amazing things with us. We have roles for everyone and some of them don't even require you to leave the house. Whether you're a night owl, or up with the Larks, we have a way you can help.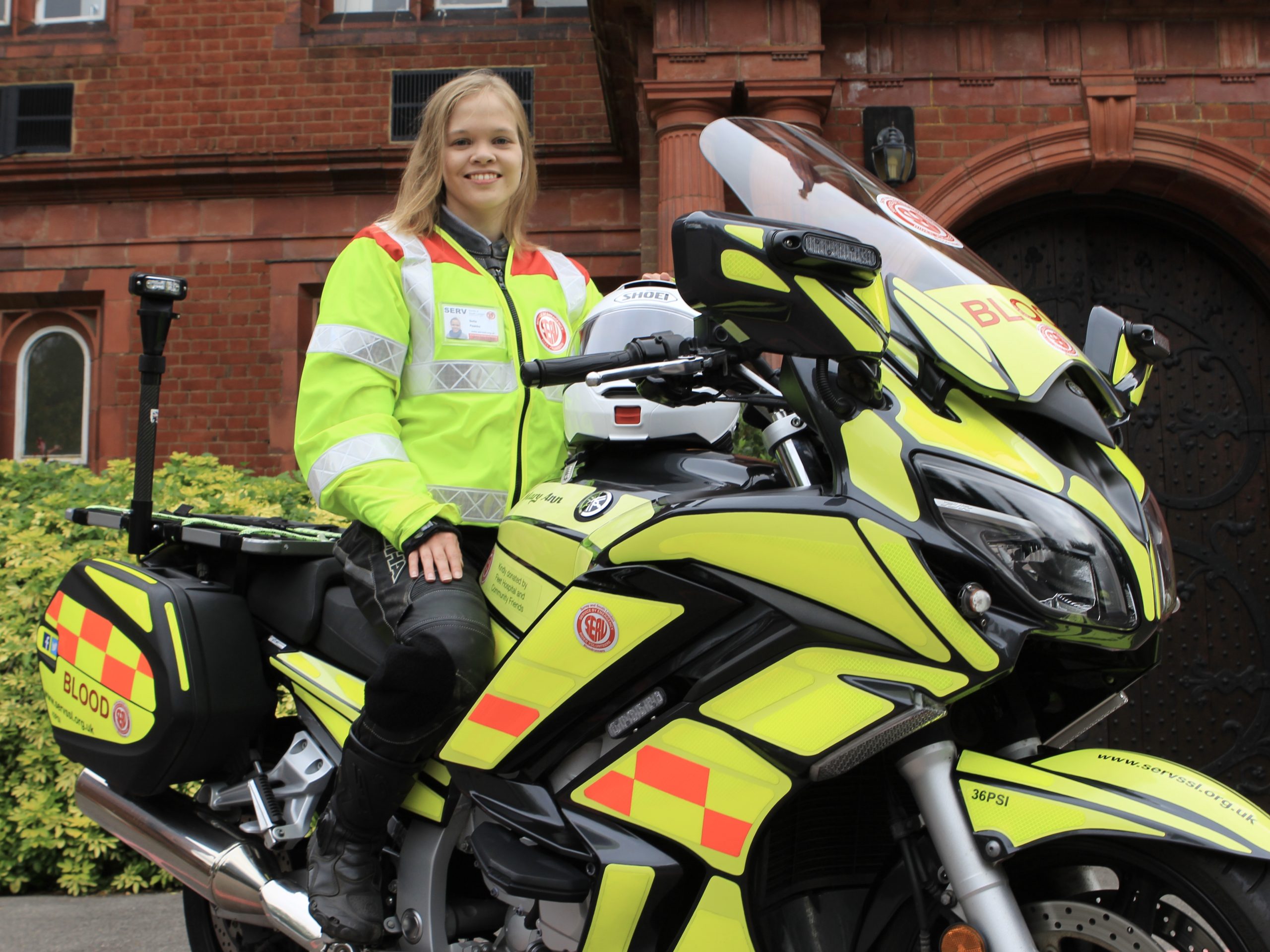 Rider
We require motorbike riders round the clock for daytime and night runs. All volunteer riders are required to have an Advanced Riding Qualification (AdQual) before they join. On successful application to join, the riders then face further assessment from our in house team of advanced riding assessors.
Night Blood Shift
As a night blood rider you are on call from 7pm-6am. Your controller will contact you during this time and allocate your runs. Riders can complete their shift on their own motorcycle or can use a marked bike from our fleet, if available. You will collect the consignment from the pick-up point, most often Tooting Blood Bank and then set off to deliver to your destination. Once the run is completed, your controller will let you know if there is another job for you.
On a night time duty you can base yourself in the comfort of your own home, however some members like to begin their duty at SERV S&L HQ, in Sutton, conveniently placed for a short ride to Tooting.
Daytime Milk Shift
We collect donated breast milk from our donor's private homes and transport between hospitals and milk banks on a daily basis. These jobs are scheduled in advance and you will generally know the evening before your duty where you are heading and at what time, allowing you to plan the rest of your day. We only use motorcycles for these runs, as they are always carried out during the day and cars are not suitable to complete the run in a timely manner due to traffic.
"Of all the brilliant things I get to experience as a rider, my favourite is probably the milk runs. Delivering direct to a neonatal ward, speaking to the amazing medical staff and hearing how big a difference the donated breast milk that we deliver makes. It's a wonderful feeling!"
– Jay, SERV S&L Rider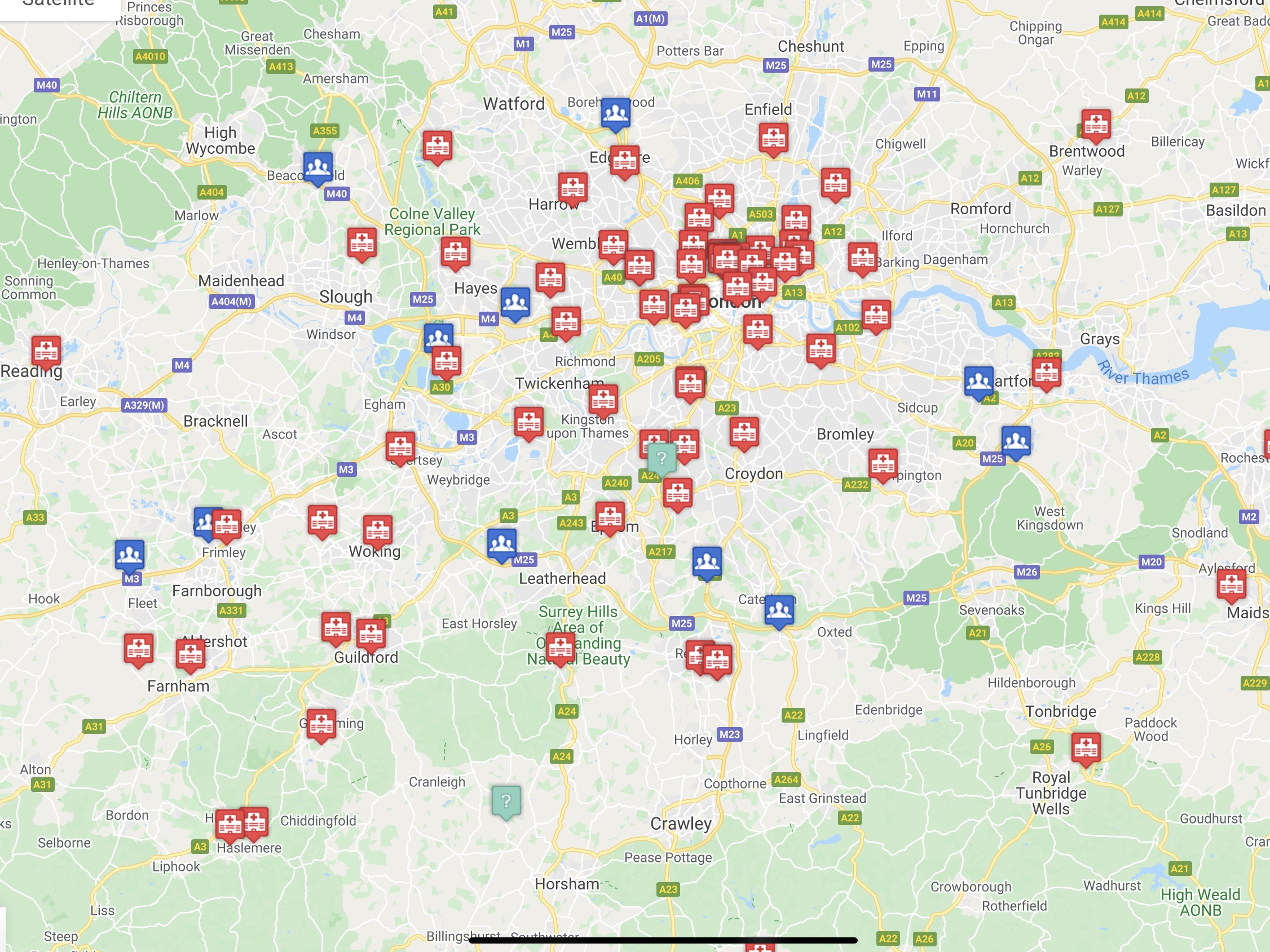 Controller
As a Controller for SERV Surrey & London, you will orchestrate the logistics of the shift. Our hospitals and partner groups will contact you to place their orders and you are responsible for dispatching the riders and drivers, accurately logging the data on our system and ensuring that the run is completed reliably.
Night Control Shift
The night time controller takes over at 6pm, when day control will handover any outstanding business.
Between 6pm-7pm, you have a little time to organise your work station for the night, log into the system and receive calls from the volunteers as they sign onto their shift.
From 7pm, the hospitals begin to call to place their orders. These calls will continue throughout the night. Once received you then dispatch the chosen rider/driver. You will also hear from our Air Ambulance volunteer to confirm the restock and our partner SERV groups, in Kent and Sussex who receive orders from their hospitals and pass on to us, in a timely manner to ensure they can make our bulk relay run.
Volunteers will be in touch when they have collected and delivered the product and again, when they are home safe. You will need to log all of these runs on our system, to record the data.
Daytime Control Shift
As a daytime controller, your shift is from 6am-6pm. Usually the daytime controller only needs to co-ordinate and log the milk-runs, which are all pre arranged. This means it is a great shift if you work from home at a computer anyway.
On Bank Holiday's, we provide a full service to the NHS, so the day control shift may be slightly busier.
"Being a SERV Controller makes me feel like I'm making a real contribution, one with a value that can't be measured financially. I'm nearly never thanked for a delivery and rarely do I know what or who it is for. It is left to my imagination and I imagine I'm doing a pretty amazing thing, for people that are grateful for our help."       
– Anthony, SERV S&L Controller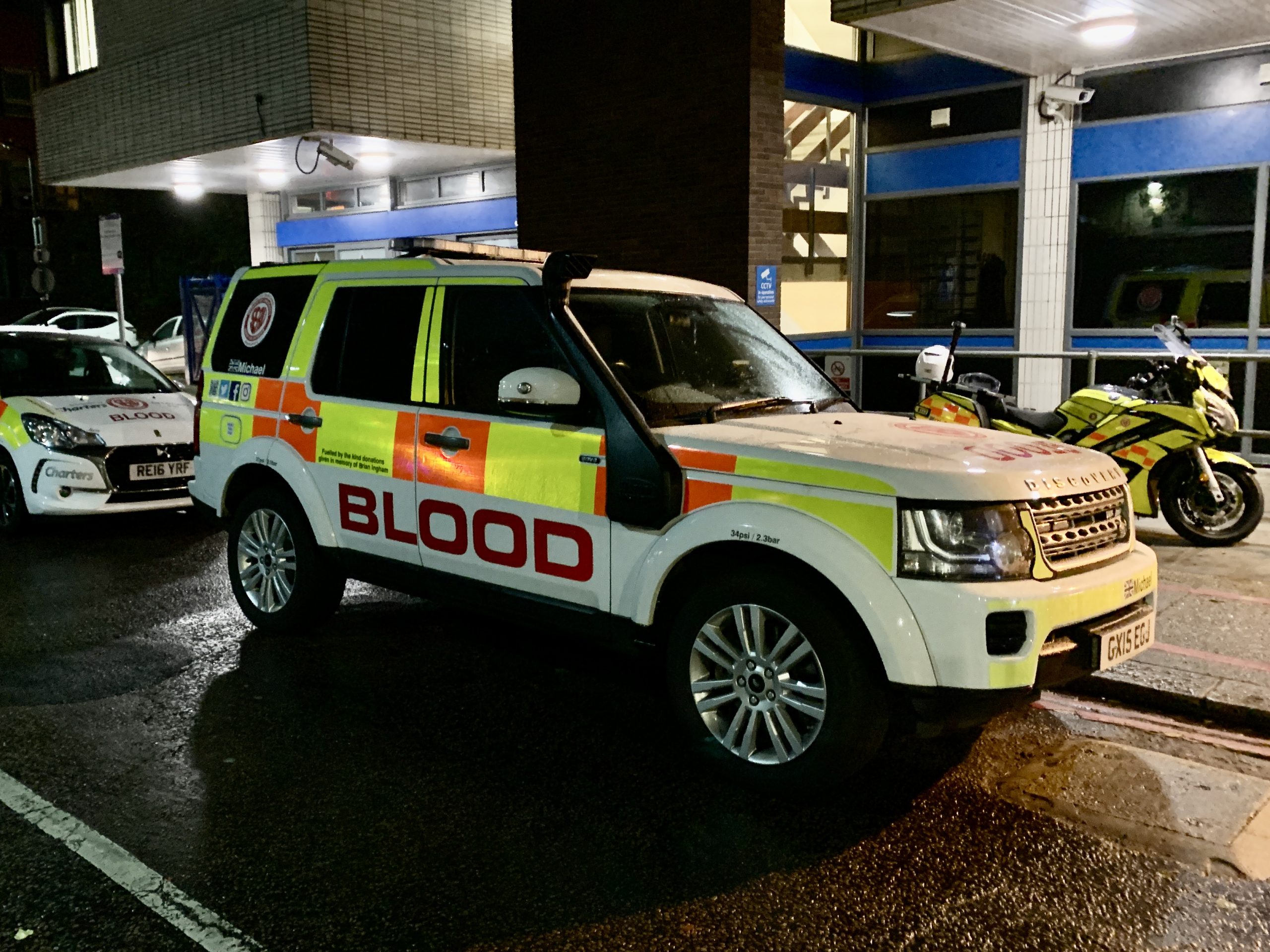 Driver
Cars are vital to our service and we continue to take on more jobs which require the use of four wheels. Although historically we were a motorcycle only organisation, we rely on cars, especially when the weather conditions prevent us from using a bike, or when the consignment is too large to carry on two wheels.
Night Blood Shift
As a night blood driver you are on call from 7pm-6am. Your controller will contact you during this time and allocate your runs. Drivers will usually complete runs in their own vehicle, however we do have a number of marked cars in our fleet which can be used for duty. As our 'patch' included the Central London ULEZ and congestion charging zone, there may be restrictions on your availability so it is best to advise your controller when you log in. 
On a night time duty you can base yourself in the comfort of your own home, however some members like to begin their duty at SERV S&L HQ, in Sutton, conveniently placed for a short drive to Tooting.
'Hooleygan' Shift
This is our nightly exchange with our partner groups SERV Kent and SERV Sussex.  We act as a filter service for our partners so that they do not have to drive all the way to London to collect and deliver their products.
As our 'Hooleygan,' you will collect the stream of orders that come through from SERV Kent and Sussex from Tooting Blood Bank. You would then meet the riders at 10pm at our rendezvous point to deliver the product and collect any return medical samples. Once the samples are delivered, you are off duty, so this set shift is great for someone who cannot be on call all night.
"The feeling of being in my warm car, on a cold winter's night, whilst delivering blood products and making a difference to somebody's life is heart-warming. Then climbing back into bed knowing I've done somebody a good turn – even better."    
– Tara, SERV S&L Driver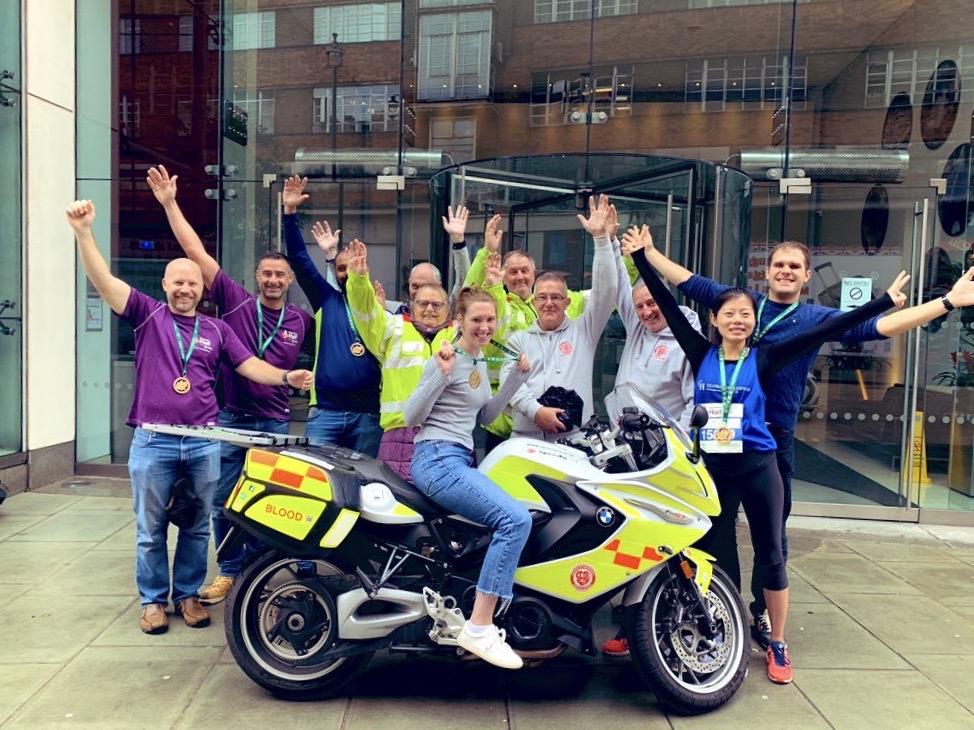 Fundraiser
We are keen to recruit more people to help share our work with members of public and other potential donors. We are entirely funded by donations so we rely heavily on people who are willing to volunteer at our events, host talks with external organisations and passionately lead our fundraising activities.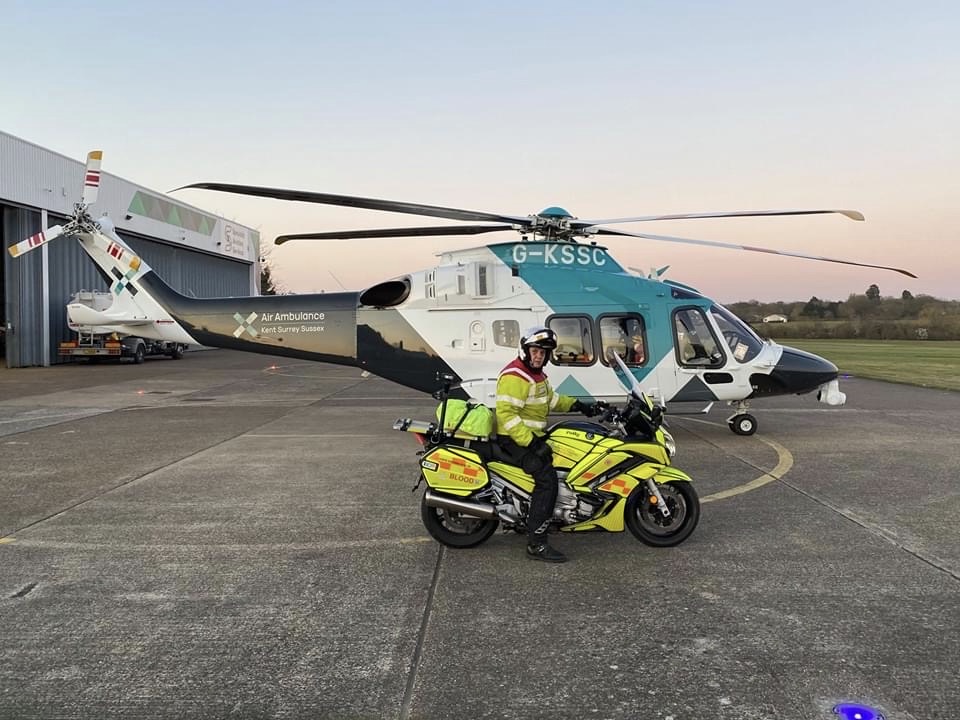 Air Ambulance
Since 2013, we have been working with Air Ambulance Charity Kent Surrey Sussex delivering blood on a daily basis. Our volunteers collect the blood from East Surrey Hospital and deliver to Redhill Aerodrome, ensuring they can always carry this life saving resource on board their aircraft. This run can be completed by car or bike. 
"It feels a real privilege to SERV our local World-leading Air Ambulance in their hugely skilled life-saving work, and so humbling when they thank us at every single opportunity!"
– Janne, SERV S&L AA Driver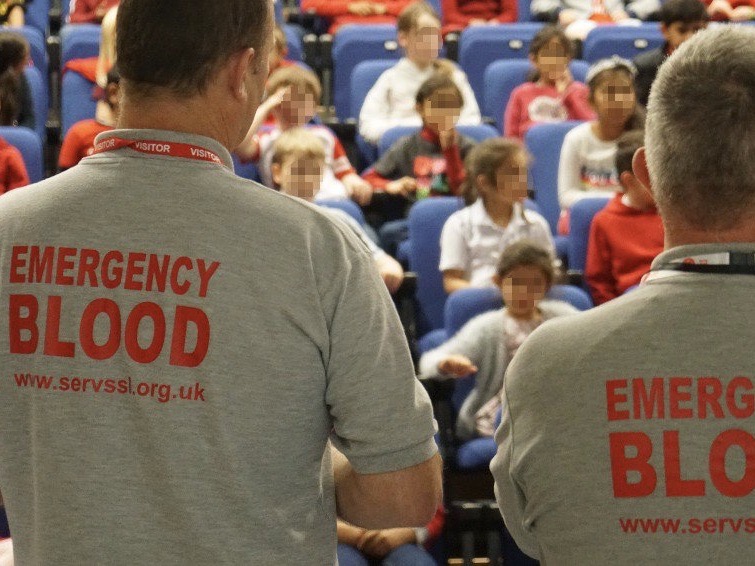 Public Speaking
If you are confident at speaking and presenting to audiences, in person and online, then we would love for you to join us to help spread the word of the wonderful work that we do. We present at business events, schools and social groups, etc. and all of the content will be provided to you, for you to share with potential supporters.